Best SEO & Website Design Freelancer SEO Expert India: Results-driven SEO – Web Design Freelancer, SEO Expert
Looking for Results-driven SEO and Web Design Freelancer? Contact Dudes Creative's Vikrom for expert services. Visit Here https://www.dudescreative.com/results-driven-seo-and-web-design-freelancer-seo-freelancer.html
VIKROM SHARMA
Contact: +91 8794 147 797
Email: vikromsharma@gmail.com
Certifications: Check Here
Objective
Highly motivated and results-driven Web Design & SEO Freelancer with a proven track record of optimizing websites and improving their online visibility. Committed to delivering top-notch digital solutions to clients.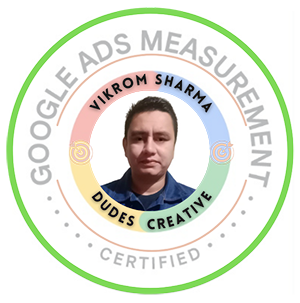 Available for Freelance
I am currently available for freelance work. If you're looking to enhance your online presence, optimize your website, or create a stunning web design, feel free to reach out to me using the contact details provided.
PROFESSIONAL EXPERIENCE
Web Design & SEO Freelancer – 5 Years of Freelance Experience
Independently managed and optimized websites for clients across various industries. Successfully improved search engine rankings and online presence for a wide range of websites.
EDUCATION
MBC Imphal
12th Pass – Year of Passing: 2003
ONLINE COURSES
SEO
Web Development
Video Editing
PPC AdWords
Various other relevant courses on Udemy and other online platforms
WORK EXPERIENCE
Northeastwebdesigner.com (My Company)
Designed and optimized the following websites:
Easyseocheck.com
Currymantra.ca
Metalfed.com
Marcelforged.com
Backingringflange.com
Creativepiping.com
Petromatco.com
Aakashsteelmart.com
Getinlamka.com
Micronsteel.com
Adcoforgefittings.com
Omaaforged.com
Lionardtechnologies.com
Northeastwebdesigner.com
Cabspune.com
Imphalcabs.com
Goatattooartists.com
Dizitalboost.com
Lionardorganic.com
Reeflip.com
Gotripto.com
PUBLISHED WORK
eBook on Amazon: "Mastering SEO: Your Comprehensive Guide to Schema, Snippets, On-Page, Off-Page, and Link Building."
Link to eBook on Amazon
SKILLS
Website Design
Search Engine Optimization (SEO)
Keyword Research
On-Page and Off-Page SEO
Technical SEO
Content Optimization
Google Analytics
Link Building
Social Media Integration
Responsive Design
HTML/CSS
WordPress
Photoshop
Adobe Premiere Pro
At this moment, I declare that the details mentioned above are accurate to my knowledge and belief.NAME: VIKROM SHARMAMobile: +91 8794 147 797
Hire Me
Are you ready to take your online presence to the next level? I'm here to help! With over 5 years of experience as a Web Design & SEO Freelancer, I've successfully optimized websites across various industries, improving their search engine rankings and online visibility. My commitment to delivering top-notch digital solutions has made a positive impact on my clients' businesses.
By choosing to work with me, you'll benefit from:
Expertise: I have a proven track record in web design and SEO, and I stay up-to-date with the latest industry trends.
Custom Solutions: I tailor my services to meet your specific needs and goals.
Result-Oriented Approach: My focus is on delivering results that matter – increased website traffic, higher rankings, and enhanced user experiences.
Diverse Skill Set: From web design and SEO to mobile app development and content optimization, I offer a comprehensive range of skills to boost your online presence.
Transparent Communication: I believe in open and transparent communication. You'll be updated on every step of the process.
Whether you're a small business looking to improve your website's performance or a larger enterprise seeking to dominate your niche, I'm here to help you succeed in the digital world.
Ready to get started? Contact me today, and let's discuss how I can make a significant impact on your online presence.
Contact Information: +91 8794 147 797
Let's work together to achieve your digital goals!